你是不是平时都只能在电视上、观众席看到别人花样水上运动,感觉非常羡慕?现在,不必羡慕别人,航伽给你机会,让你感受绝对惊喜的水上运动!让你足不出沪也能体验到!
Do you usually only see other people's water sports on the TV and in the audience, I feel very envious? Now, don't envy others, Hanga gives you the opportunity to experience the absolute surprise of water sports! Let you experience it without leaving Shanghai!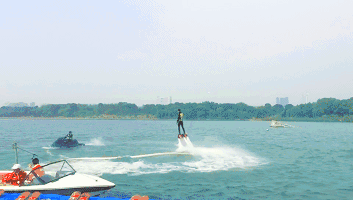 但是如果你是第一次体验水上运动,那么功课还是要做足的哦!在这里,就跟小编一起深入了解一下最刺激的水上飞人运动的正确玩法吧!
But if you are the first to experience water sports, then you have to do your homework! Here, let's take a closer look at the correct gameplay of the most exciting water trapeze movement with Xiaobian!
水上飞行器是来自法国的水上飞行游乐产品,利用脚上喷水装置产生的反冲动力,让人可以在水面之上腾空而起,另外配备有手动控制的喷嘴,用于稳定空中飞行姿态。它也能让人在水底潜行,并向海豚一般跃出水面,激起层层浪花。更有人说的它动作如钢铁侠一般带劲!
The watercraft is a waterborne amusement product from France. The recoil power generated by the water spray device on the foot allows people to vacate above the water surface, and is equipped with a manually controlled nozzle for stabilizing the airborne attitude. It also allows people to sneak under the water and jump out of the water to the dolphins, causing layers of spray. Some people say that it moves like Iron Man!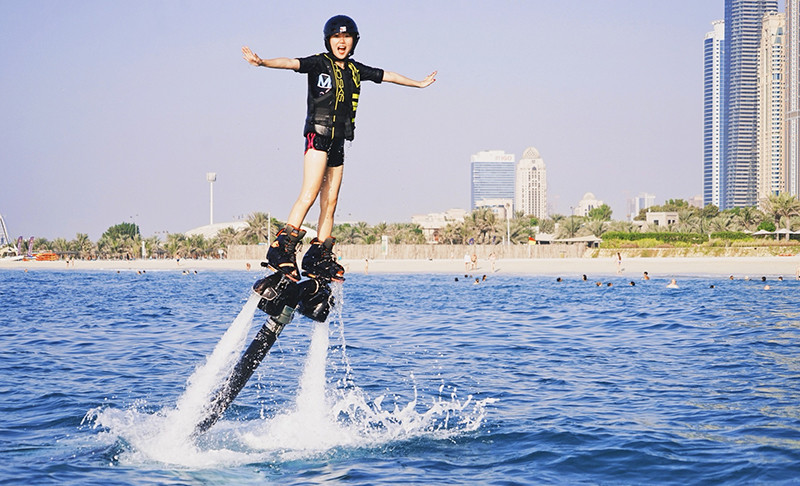 要成为一名合格的水上飞人,首先要了解这项运动的基本配置:飞板、滑水鞋/滑水靴子、旋转系统、大型软管、180度弯头、喷嘴接管、接驳器、手持喷嘴。每一个配置都发挥着其重要的作用,只有完全了解他们,才能更好地运用他们,所以,运动前的相关学习是必不可少的。
To become a qualified water trapeer, you must first understand the basic configuration of the sport: flying board, water-skiing shoes / water-skiing boots, rotating system, large hose, 180 degree elbow, nozzle nozzle, connector, hand-held nozzle. Every configuration plays an important role. Only by fully understanding them can we use them better, so pre-exercise related learning is essential.
其次你需要知道熟悉这项运动所需的装备:
1、救生衣(需具国际海岸警卫队认证或类似的国际认证的)
2、头盔 (水上运动型)
3、潜水服(可选)
4、摩托艇(建议马力100HP或更高,150HP或更高的配置的)。
Second, you need to know the equipment you need to be familiar with the sport:
1. Life jackets (required with International Coast Guard certification or similar international certification)
2, helmet (water sports type)
3, diving suit (optional)
4, motorboat (recommended horsepower 100HP or higher, 150HP or higher configuration).
在进行水上飞人运动前,一定要好好检查,以上装备缺一不可!
Before conducting the water trapeze movement, you must check it properly. The above equipment is indispensable!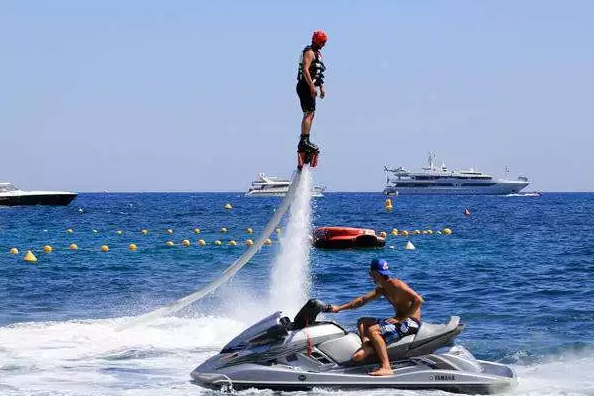 最后,也是最重要的一点!注意事项:
一、为了安全起见,16周岁以下孩童禁止使用水上飞行器;
二、严禁在超过35英里危险风速与海浪高于3英尺高度的环境使用飞行器;
三、禁止在服用酒精,毒品或药物的情况下操作飞行器;
四、禁止单独一人独自进行水上飞人运动;
五、必须完成教学课程所提供的安全培训后方可操作飞行器;
六、必须在符合当地国家的法律与地方法规下操作飞行器;
七、须在3.65米以上深度的水域上进行水上飞人运动。
以上七条注意事项,为了个人的安全起见,一定要严格遵守哦!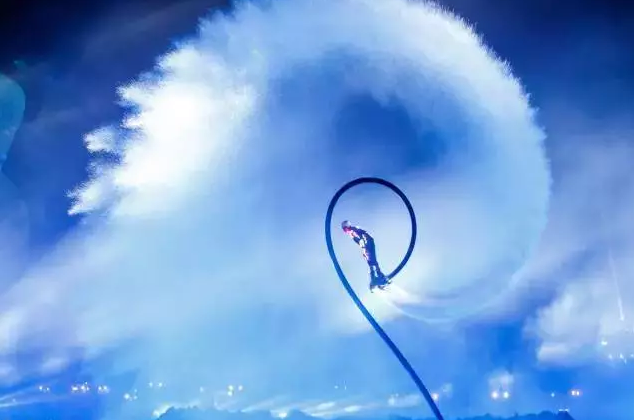 Finally, and most importantly! Precautions:
1. For safety reasons, children under the age of 16 are prohibited from using a watercraft;
2. It is strictly forbidden to use the aircraft in an environment with a dangerous wind speed of more than 35 miles and a sea level higher than 3 feet.
3. It is forbidden to operate the aircraft while taking alcohol, drugs or drugs;
4. It is forbidden for a single person to carry out the water trapeze movement alone;
5. The safety training provided by the teaching course must be completed before the aircraft can be operated;
6. The aircraft must be operated in accordance with the laws and local regulations of the local country;
7. The water trapeze movement must be carried out in the waters at a depth of 3.65 meters or more.
The above seven precautions must be strictly observed for personal safety!
说了这么多,你对水上飞人运动有了更深层次的了解,get到了正确玩法了吗?当然,只要你热爱海洋及水上运动,且有颗勇敢又充满激情的心,还怕不能够征服驾驭它吗?!2019航伽邀您一起,向自己发出挑战!
Having said that, you have a deeper understanding of the water trapeze movement, got the correct gameplay? Of course, as long as you love the ocean and water sports, and have a brave and passionate heart, are you afraid of conquering it? ! 2019 Hangjia invites you to challenge yourself!