为贯彻落实"体育是人民健康幸福重要组成部分"的重要论述精神,坚持把体育事业融入实现"两个一百年"奋斗目标大格局中去谋划,坚持新发展理念,解放思想,创新机制,全面提升国民体育运动水平,大力促进水上运动产业发展,不断满足人民群众日益增长的滨水文化需求。
To implement the general secretary xi "sports is an important part of the people's health and happiness" of important spirit, adhere to the undertakings of physical culture and sports into the realization of "two centenary goalsl" to design the pattern, adhere to the new development concept, to emancipate the mind, innovation mechanism, comprehensively enhance the level of national sports, promote water sports industry development, to meet people's growing demand of waterfront culture.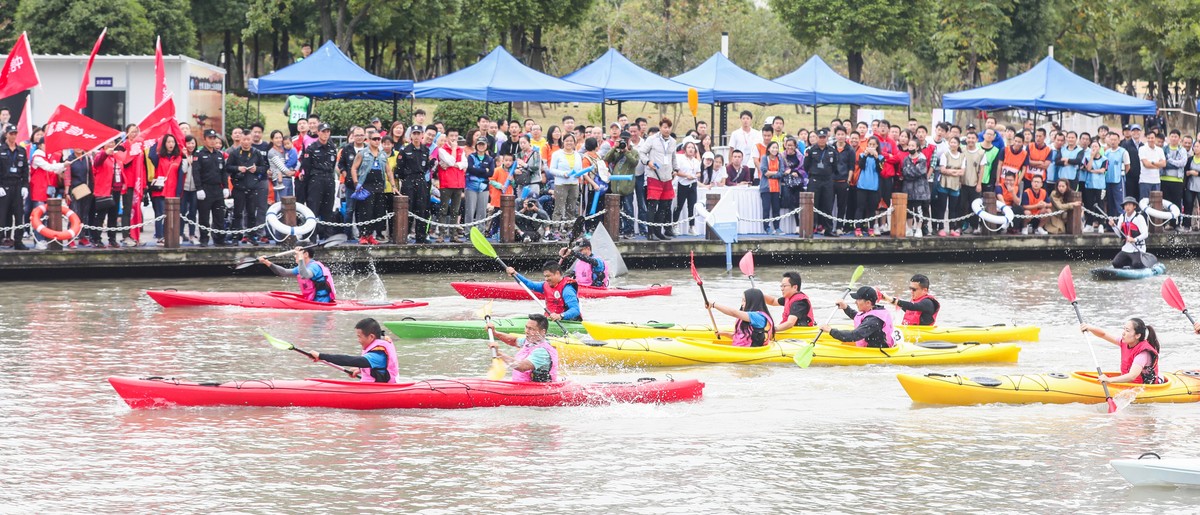 结合当前国民水上休闲文化发展需求,举办水上文化嘉年华活动,突出全民性、休闲性、参与性、体验性,也体现国内滨水休闲文化中独具滨水特色的水上运动大众亲民活动。
Combining with the current national water leisure culture development needs, organizing the water culture carnival activities, highlighting the characteristics of the whole people, leisure, participation, experience, and embodies the characteristics of waterfront leisure culture in China.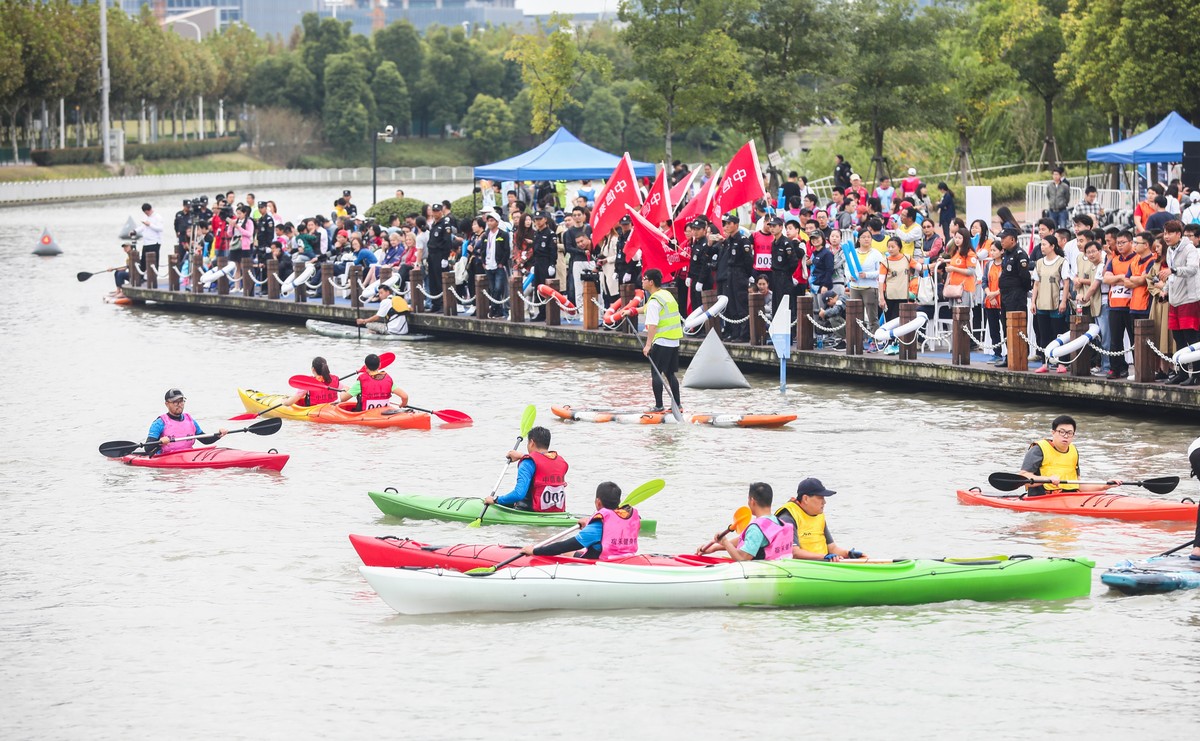 2016、2017、2018年三届以"爱世博·爱生活"为主题的水上嘉年华皮划艇比赛成功举办,多家世博地区具有影响力的央企、国企,及世界500强企业代表队参与竞技,拓展了滨水休闲旅游与水上运动及国际水上休闲文化在公众中的影响力,吸引公众关注水上运动的参与和爱好,点燃不断更多市民们投身参与的热情。
Thrice in the year 2016, 2017, 2018 annual "Love Expo, Love Life" as the theme of water canoeing competition held successfully, the carnival of the Expo area influential state-owned enterprises, state-owned enterprises, and the world 500 strong enterprise delegation to participate in the competition, expand the waterfront leisure and water sport leisure culture influence, in the public and the international water attract public attention to the participation of water sports and hobbies, lit continuously more citizens into enthusiasm of participation.
今年,2019年,"耀前滩滨水·谱世博文化"第四届世博水上文化嘉年华暨"世博杯"皮划艇活动也将如期而至!随着所有企业的热情与大众的期待精彩绽放规模升级。
This year, 2019, "Shine Qiantan Waterfront · Compose Expo Culture" the Fourth Expo Water Culture Carnival and "World Expo Cup" kayaking activities will also come! With the enthusiasm of all enterprises and the public expectations of the wonderful bloom scale upgrade.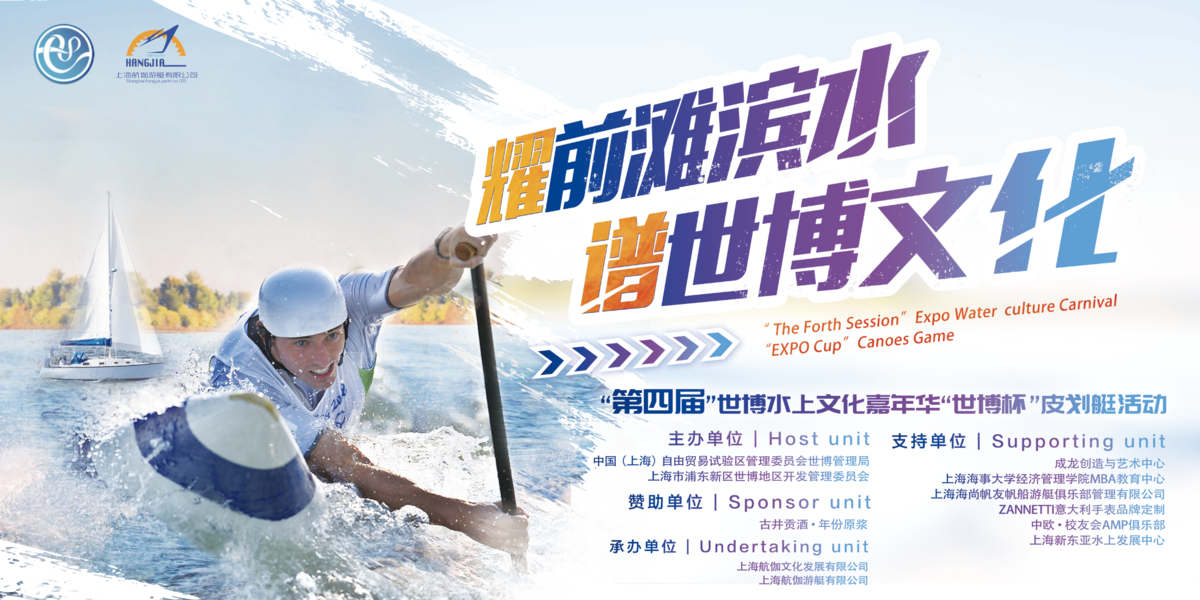 本届活动规模依旧庞大,本次活动已成功邀请近30家入驻世博地区的央企、国企,及世界500强企业代表队参与比赛,中国宝武、中铁集团、中国华能、中建八局,中国华电、中信泰富等企业更是带头参与。
The scale of this activity is still huge. This activity has successfully invited nearly 30 central enterprises and state-owned enterprises settled in the Expo area, as well as representatives from the world top 500 enterprises to participate in the competition. China Baowu, China Raiway Group, China Huaneng, China Construction Eighth Engineering DIvision, China Huadian, CITIC Pacific and other enterprises have taken the lead in participating in the competition.

今年开设公众体验环节,配备专业教练指导,鼓励参与观赛公众亲身参与水上运动项目(帆船、水上自行车、皮划艇、透明皮划艇、SUP板等)实操体验。同时,活动内容创意新增设了欢快小提琴、活力啦啦操表演,与皮划艇专业表演和SUP技巧表演共同呈现精彩视觉与世博水上休闲文化的新景象。
This year, a public experience session will be held with professional coaches to encourage the public to participate in water sports (Sailing, Water Cycling, Kayaking, Transparent Kayaking, SUP, etc.). At the same time, the creative content of the activity added a cheerful violin, energetic cheerleading performance, with kayaking professional performance and SUP skills show wonderful visual and the Expo water leisure culture of the new scene.