很多第一次到基地接触水上运动的人,都不确定自己需要准备哪些装备。除了基地提供的装备,如:
皮划艇、桨、浆板、水上自行车
等设施以及
救生衣、救生圈
等必备用品,还要携带哪些专属于你的必备用品呢?
Many people coming to the base for the first time are unsure what equipment they need. In addition to the equipment provided by the Base, such as: kayaking, oars, SUP, water bicycles and other facilities as well as life jackets, life rings and other essential supplies, and what essential supplies should we need to carry ?
下面一起来从头到脚的看看吧!
Let's have a look from head to toe!

★ 遮阳帽 SUN HAT
★ 太阳镜、眼镜绳
SUNGLASSES / GLASSES ROPE
★ 速干衣、防晒衣、冰袖、百变头巾
QUICK DRTING CLOTHES / SUN-PROOF CLOTHING / ICE SLEEVE / SCARF
★ 溯溪鞋/涉水鞋/沙滩鞋/拖鞋/凉鞋
WADING SHOES / SPORT SANDAL
★ 防晒霜 SUN CREAM
★ 毛巾 TOWEL
★ 手机防水袋
WATER PROOF BAG FOR MOBILE PHONE
......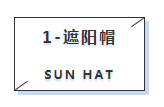 户外运动,帽子是必不可少的装备。除了防晒,还能凸造型~
· 帽子首选大檐帽,例如钓鱼帽,防晒效果好,舒适透气,脸和颈部都能遮到。
· 棒球帽也不错,不影响左右视角,但是防晒效果就差了不少。
Hats are essential equipment for outdoor sports. Besides prevent bask in, still can protruding model!
For hat i preferred big eaves hat, such as fishing cap, good sun protection, comfortable and breathable, importantly it can covered face and neck.
Baseball cap is also good, does not affect the left and right perspective, but the sun protection effect is not many.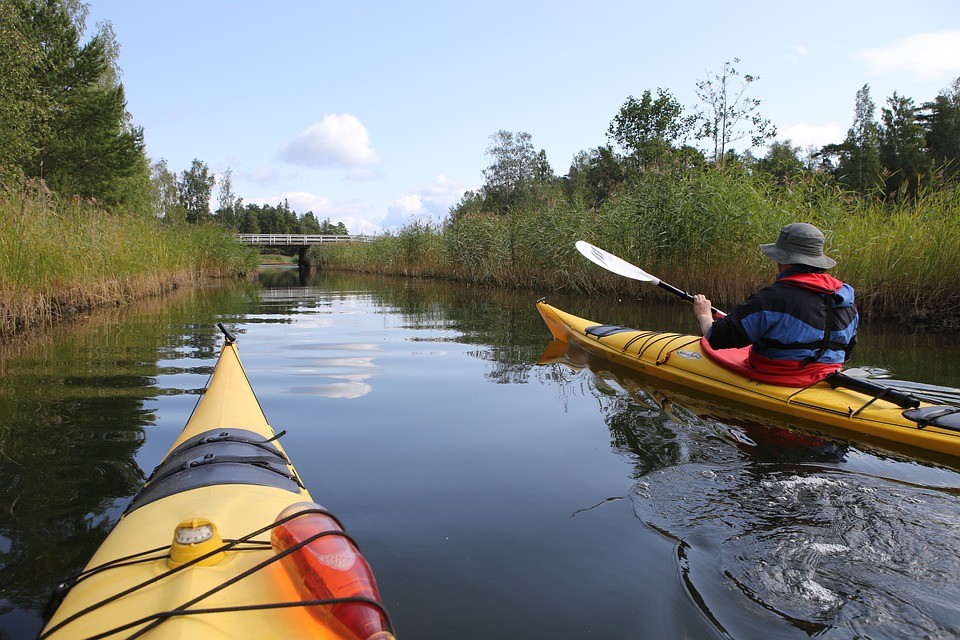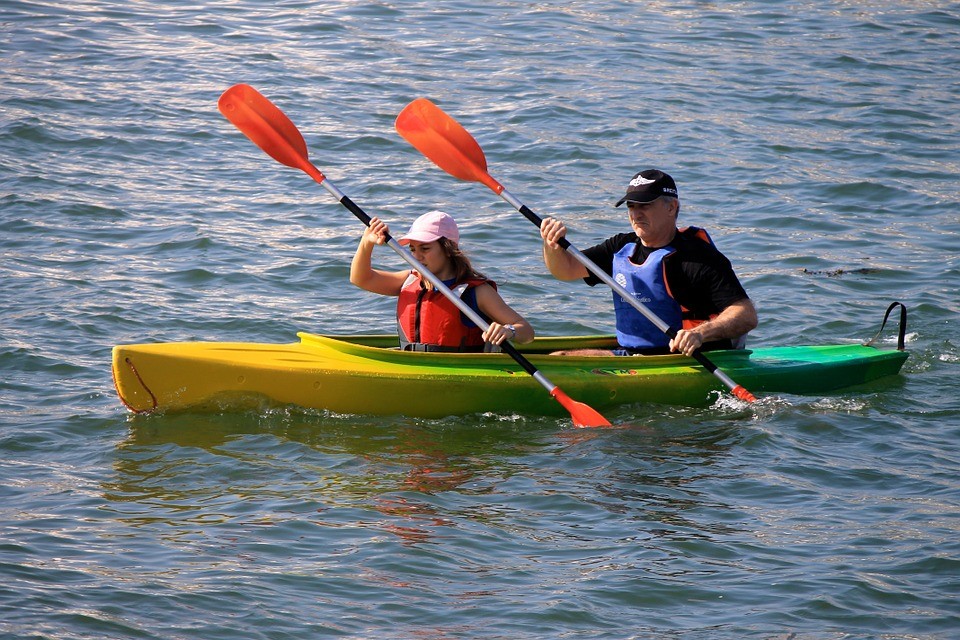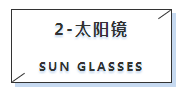 在白天尤其是晴朗大太阳的天气,水面反射的阳光对视线有影响,对眼睛也有一定的伤害,这时候
太阳镜
就派上用场了,除了保护眼睛,拍照起来也很帅。
In day especially the weather of sunny big sun, the sunshine of water surface reflex has effect to line of sight, also have certain harm to the eye, at this time sunglass is sent on use, besides protecting an eye, They look great in photos, too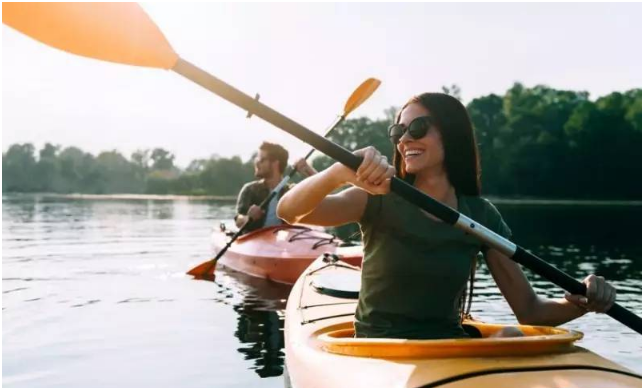 ★ 眼镜绳  GLASSES ROPE
戴眼镜的朋友注意了,为了避免眼镜在运动中不慎落水丢失,可以用眼镜绳固定住。
Attention please: in order to avoid glasses to fall into water carelessly in motion to lose, you can fix with glasses rope.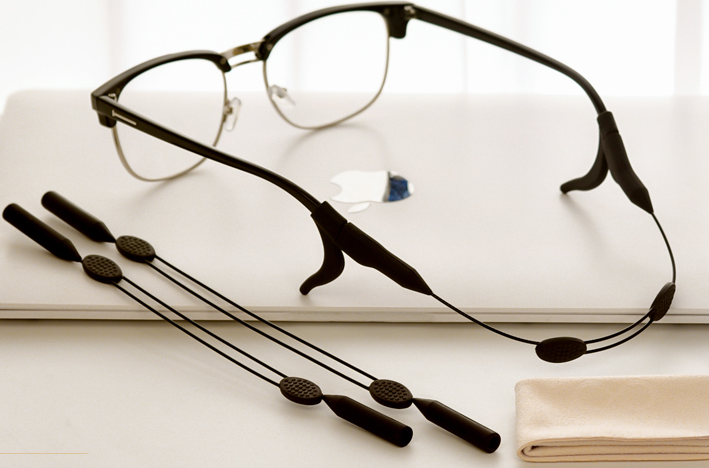 普通的衣物湿水后会贴身,变沉,不仅难受也难散热,而运动专用的
速干衣物
就能很好的解决这个问题。所以为了保证体感上的舒适度,贴身衣物的话优先选择速干款。专业的可以选择
潜水服。
Ordinary clothes will be uncomfortable and difficult to heat after they get wet, but special quick-dry clothes can solve this problem. Therefore, in order to ensure the comfort level of body feeling, choose the quick-dry model first. Professional diving suits are available.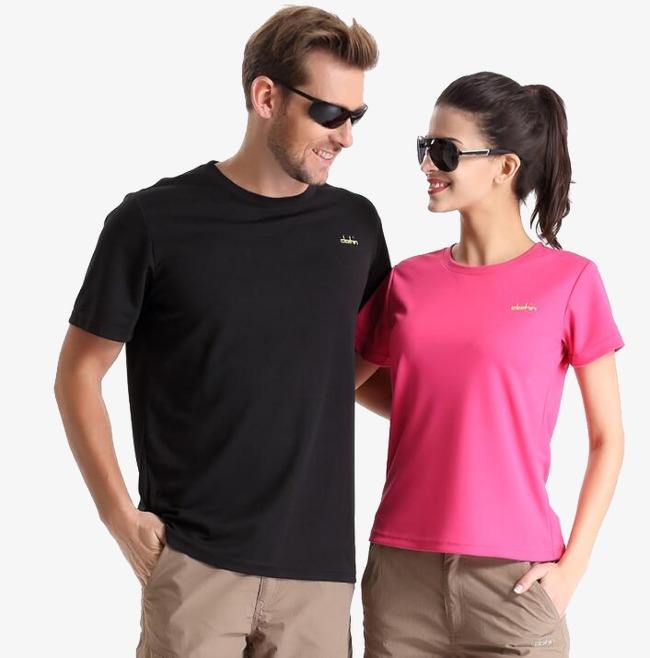 ★ 防晒衣 SUN-PROOF CLOTHING
大面积物理防晒首选。市面上很多防晒衣防晒指数UPF为40+或50+,阻隔98%以上的紫外线,轻薄好收纳。不过有的朋友认为比较闷热不舒适。
Choose it for large area physical sunscreen. There are many suntan clothes in the market with an SPF of 40+ or 50+, which blocks more than 98% of uv rays and is easy to receive. But some friends think it's stuffy and uncomfortable.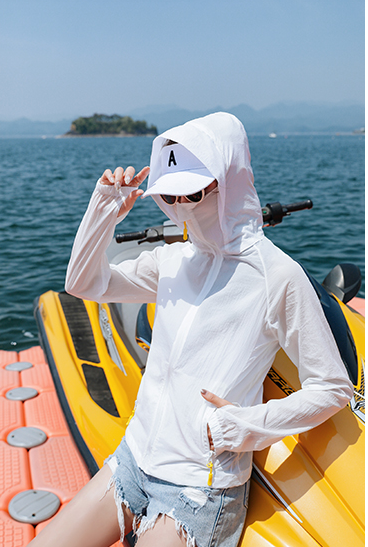 ★ 冰袖 ICE SLEEVE
冰袖作为防晒的另一种选择,受到不少朋友青睐。搭配短袖上衣使用,方便,也更凉快。不过由于材质问题,会比较容易抽丝。
Ice sleeve serves as another kind of choice that prevent bask in, get many friends favour. Use with a short-sleeved top for ease and cool. However, due to material problems, it is easier be snagged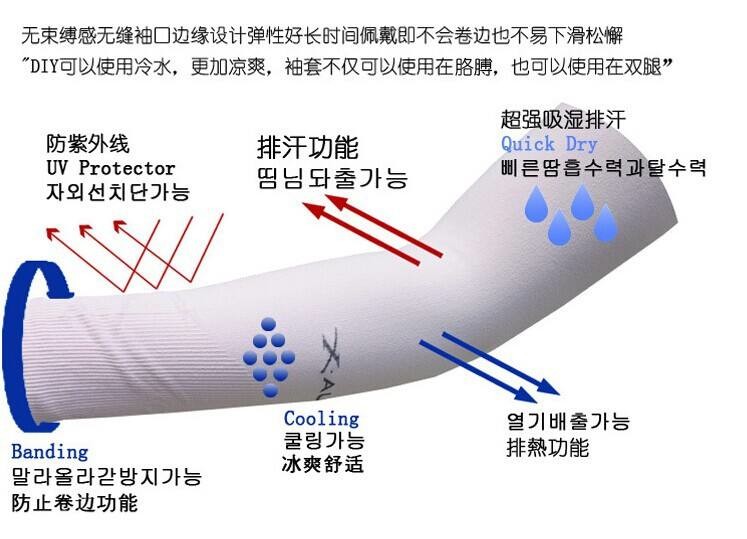 ★ 百变头巾 SCARF
百变头巾可视情况购买,主要还是面部和脖子的防晒,或是当头巾戴。必要时还可以拿来当毛巾使用。
Purchase as required. Mainly protect your face and neck, or you can wear it like scarf. Use it as a towel if necessary.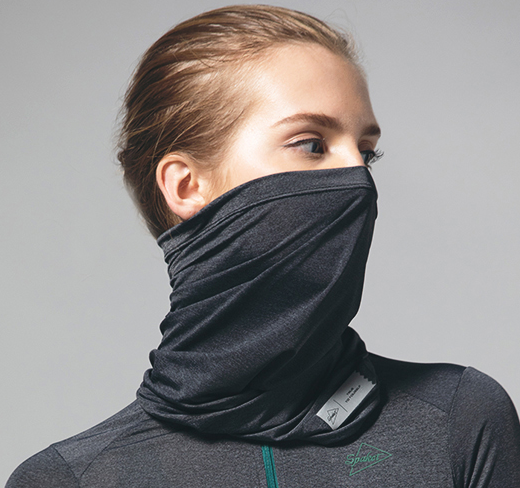 鞋子有很多选择,以能下水、不打滑为首要选择。穿鞋除了防滑,主要是避免落水后被水底的沉淀物划伤。专业一点的可以选择
溯溪鞋\涉水鞋\沙滩鞋
。
You have many choices for shoes, the primary choice is that it can be able to enter the water, and not slip. Wear shoes mainly to avoid be injured by the bottom of the sediment scratches when falling into the water. Professional choices is choose the stream shoes \ wading shoes \ beach shoes.
如果一直在皮划艇上不下水的朋友就比较随意了,可以选择
凉鞋、拖鞋,洞洞鞋
,甚至可以
光脚
。
If you choose stay in kayaking so that you can choose sandals, slippers, crocs, even barefoot casually.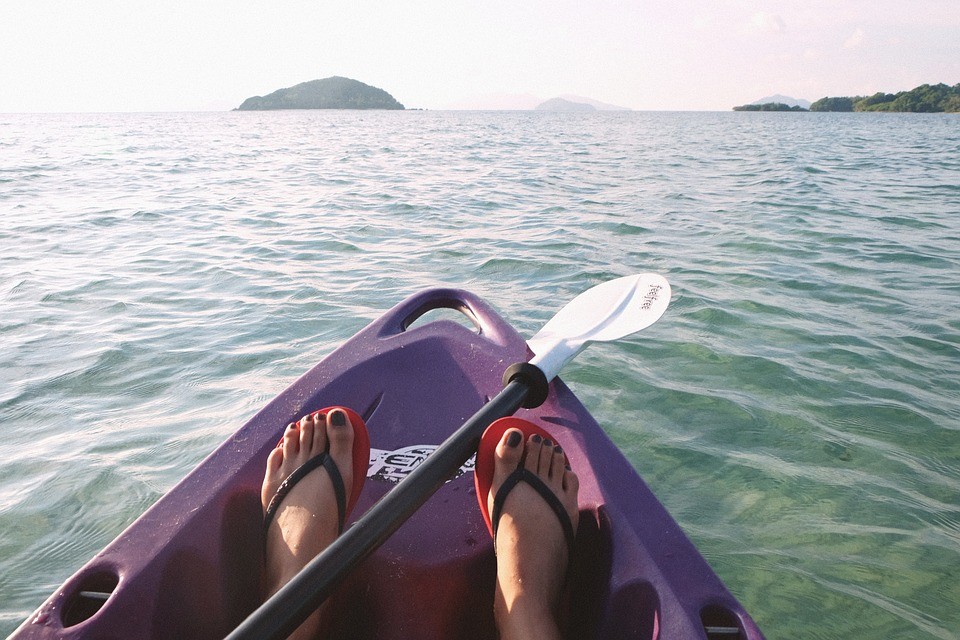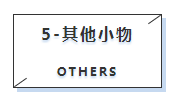 ★ 防晒霜 SUN CREAM
防晒系数(SPF)是防晒霜两个小时内的防晒保护能力。SPF:英文Sun Protection Factor的缩写,即防晒指数。例如如SPF30是指30倍的防晒强度,一般一个人在没有抹防晒霜的情况下晒20分钟皮肤开始出现红斑,那么抹上SPF30的防晒霜后,可保证她在20分钟×30分钟后才会晒伤皮肤,这里的30是倍数。
The sun protection factor (SPF) is the amount of protection a sunscreen can provide for two hours.
SPF: the abbreviation for Sun Protection Factor. For example, SPF30 refers to the sun protection intensity of 30 times. Generally, a person starts to show red spots after 20 minutes of sun exposure without wearing sunscreen. After applying the sunscreen of SPF30, she can be guaranteed to burn her skin after 20 minutes ×30 minutes.
☆ SPF20—30/PA+++适合:户外工作、旅行、夏日强烈阳光。
SPF20 -- 30/PA+++ suitable for: outdoor work, travel, strong summer sun.
☆ SPF30/PA++++以上适合:高原等特定环境下的强烈阳光。
SPF30/PA++++ above is suitable for: high altitude and other specific environment of strong sunlight.
对大多数人来说,SPF 30防护足以抵挡96%的具有破坏性、灼伤性的UVB室外太阳射线。若是敏感的皮肤则应选择SPF 50的防晒霜以获得更好的保护。
For most people, the SPF 30 protection is enough to block 96% of the damaging, sunburning UVB rays outside. For sensitive skin, choose a sunscreen with SPF 50 for better protection.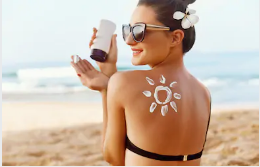 ★ 手机防水袋  WATER PROOF BAG FOR MOBILE PHONE
进行水上运动时我们建议把手机放在岸上,但对于想带着手机拍照,记录生活美好的朋友,那就必须给它戴上一个防水袋。
We recommend keeping your phone on the beach when you are sporting on the water, but for those who want to take photos and record their happy lives, you must put on a waterproof bag for your phone.
挑选防水袋的时候,需要注意的是,防水性能与密封条的多少、旋转卡口的紧密度还有防水袋边缝的密合度有关。
When choosing waterproof bag, it is necessary to pay attention to that the waterproof performance is related to the number of sealing strip, the tightness of rotary bayon and the sealing degree of waterproof bag edge seam.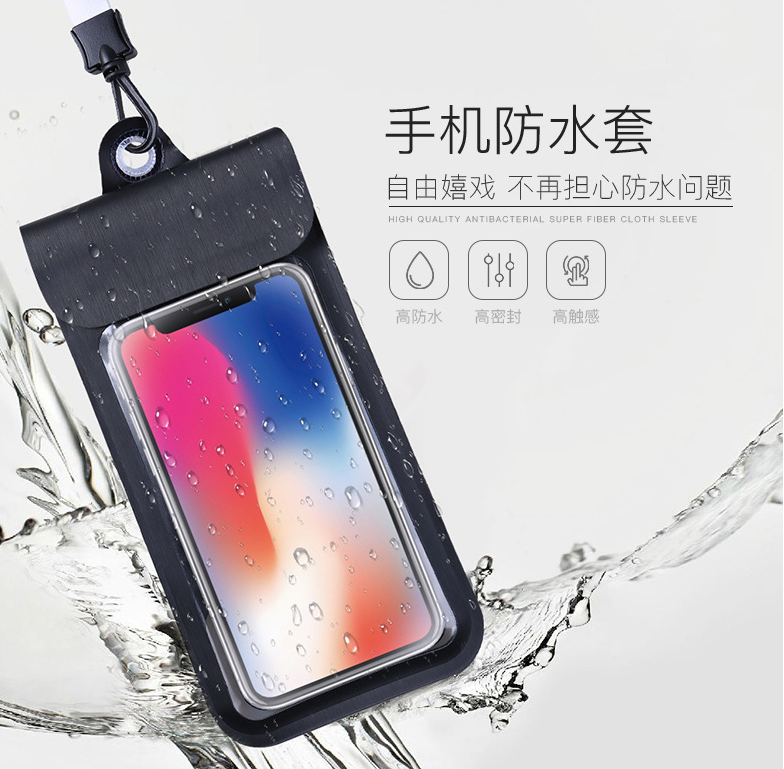 ★ 毛巾 TOWER
擦拭汗水,洗脸,也可以运动后在更衣室冲个凉,舒缓放松。
Wipe the sweat, wash your face, or take a shower in the changing room after exercise to relax.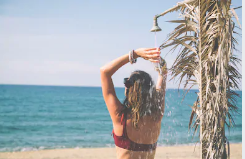 ......
未完待续,等你探索
To be continued, to be explored
带上一身专属装备,
到世博·航伽水上运动基地大展身手吧!
Take your equipment, to the Expo - Hangjia Water Sports Base
to show your capabilities!
要是没准备好,也没关系。
我们贴心的工作人员
也为大家准备了一些装备,
以备你的不时之需。
让您随时随地,想玩就玩,尽兴而归!
If you're not ready, that's fine.
Our staff has prepared some equipment for you,
In case you need it.
Let you can play when you want to play,
and enjoy yourself!