航伽水上拓展活动把趣味、互动、娱乐、竞技的项目引入其中,调动每个参与者的积极性使全员积极参与到活动中来;
The Hangjia Water Development Campaign introduces fun, interactive, entertaining and competitive projects, mobilizing the enthusiasm of each participant to enable all members to actively participate in the event;
不仅达到熔炼团队,增强企业凝聚力,鼓舞全员士气的目标,还能加深员工对企业新目标的了解和认同,展示公司及员工的风采,提升活动效果。
It not only reaches the smelting team, enhances the cohesiveness of the company, but also encourages the morale of all employees. It can also deepen the understanding and recognition of employees' new goals, showcase the company and its employees, and enhance the effectiveness of the activities.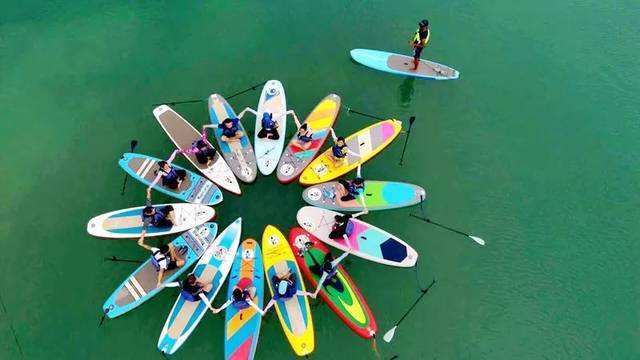 活动在轻松的氛围中,考验团队协作。
Activities in a relaxed atmosphere, test teamwork.
经过精心的设计策划,皮划艇、SUP浆板,OP帆船(适用于青少年)帆船、水上自行车等众多水上项目倾情奉献,引人入迷。
After careful design and planning, kayaking, SUP pulp board, OP sailing (for young people) sailing, water bicycles and many other water projects are fascinating.
水上运动最能考验参与者的体能、爆发力、平衡力、判断力,同时对参与者的胆量、速度以及灵活性提出很高的要求,是将参与者的智能与体能完美调动起来的团建活动。
Water sports can test participants' physical strength, explosiveness, balance, and judgment. At the same time, they place high demands on the courage, speed and flexibility of participants. It is a group activity that perfectly mobilizes the intelligence and physical strength of participants.
水上拓展活动的开展,对于员工来说,可以释放员工工作压力,在参与体育锻炼中放松心情,享受生活;
The development of water development activities, for employees, can release the work pressure of employees, relax and enjoy life while participating in physical exercise;
而对于企业来说,员工有一个好心情投入将来的工作中去,为公司创造更大的价值。
For the enterprise, the employees have a good mood to invest in the future work, creating greater value for the company.
同时,由于企业趣味水上运动项目以集体项目为主,在进行的过程中,可以提高参与者的团队意识,激发员工敢于拼搏,奋勇向前的精神。
At the same time, because the corporate fun water sports project is based on collective projects, in the process of carrying out, it can improve the team awareness of the participants and motivate the spirit of hard work and hard work.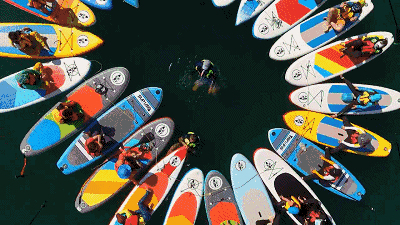 如果你厌倦了平淡的团建游戏
那么是时候解锁新技能了!
来航伽,体验最特别的团建活动吧!
If you are tired of the dull team building game
Then it's time to unlock new skills!
Come to Hanga and experience the most special group building activities!