放暑假啦~
除了办公室和补习班,
除了电脑和课本,
也是时候给自己和孩子放个假,
与孩子一起去亲近自然,舒缓身心压力了~
航伽特此举办一场别开生面的夏练营活动,
上至55岁下至7岁的朋友都能玩!
让您和孩子,都能一起,轻松一夏~
Summer is coming!
In addition to the office and cram school,
in addition to the computer and textbooks,
it is also time to give yourself and your children a holiday,
to get close to nature with the children,
relieve physical and mental pressure ~
Hangjia held a special Summer Training Camp,
up to 55 years old to 7 years old people can play!
Let you and the child,
can be together, relaxed summer ~
♬ 皮划艇在人类掌握火和石斧的时期就产生了,最初皮划艇以皮革或挖空的树干制成,也叫做独木舟。1924年,皮划艇作为表演项目进入奥运会。如今,皮划艇也被人们当做一种休闲运动来推广和发展。它既有激烈的对抗和竞争,也有展示运动员的运动之美。
Kayaking dates back to the time when humans mastered fire and stone axes, and was originally made of leather or hollowed out tree trunks, also known as canoes. In 1924, canoeing entered the Olympic Games as a performance event. Nowadays, canoeing is also promoted and developed as a kind of leisure sport. It has both fierce competition and the beauty of sports displayed by athletes.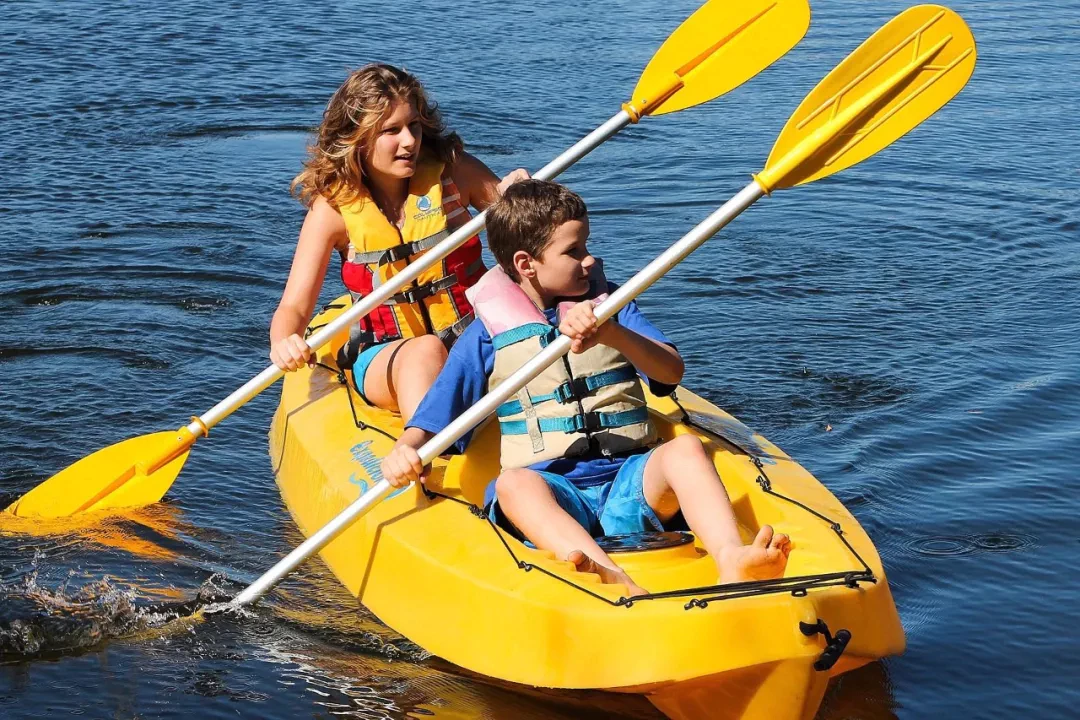 ★ 皮划艇虽然是从国外引进来的,但并没有你想象的那样"高冷"——就像篮球等运动一样,只要有兴趣就可以去尝试,而最佳的体验年龄,就是在青少年时期。
Kayaking, though imported from abroad, is not as "cold and high" as you might imagine -- just like sports like basketball, you can try it if you are interested, and the best age to experience it is when you are a teenager.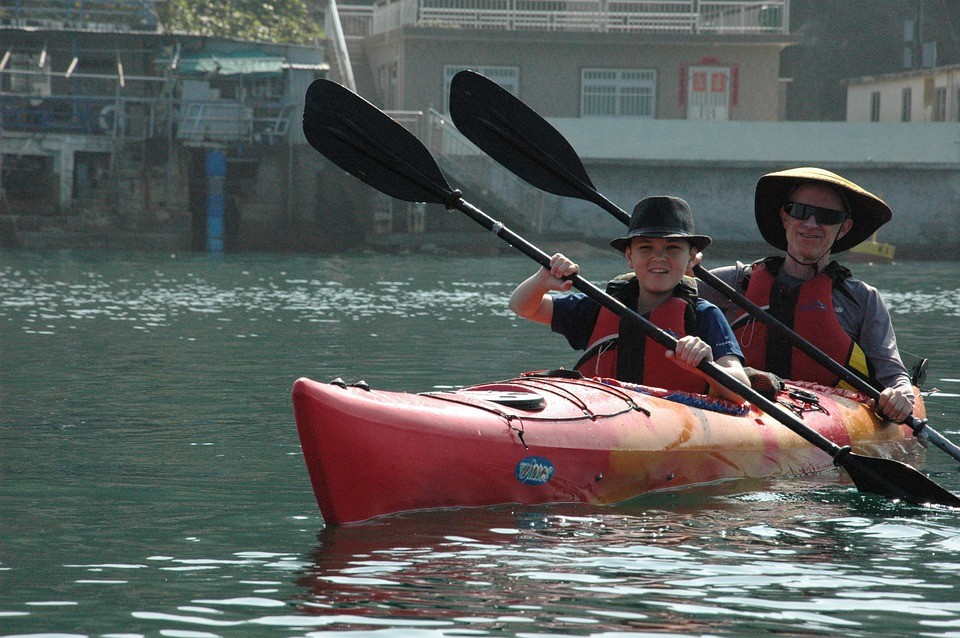 ★ 国外很多父母从小就培养孩子的运动员精神,其中最受欢迎的就是这皮划艇运动,不仅能增强身体素质,还能磨练意志力、培养个人和集体的关系、增强团队精神等内在的素养。
Tips: Many parents in foreign countries cultivate their children's sportsmanship from childhood, among which the most popular is kayaking.
It can not only enhance physical fitness, but also hone willpower, cultivate personal and collective relations, enhance the team spirit and other internal qualities.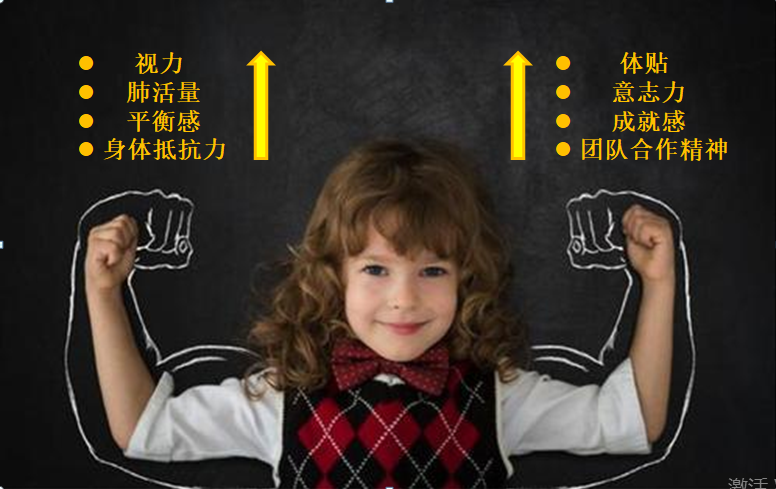 ★ 最重要的是,掌握赛艇这一技之长,很大几率可以成为名校的敲门砖。例如哈佛、剑桥等高校都会组织赛艇比赛,招收赛艇特长生。
Most importantly, mastering the skill of rowing has a great chance of getting a foot in the door of a prestigious university. For example, universities such as harvard and Cambridge will organize rowing competitions and recruit students with special skills in rowing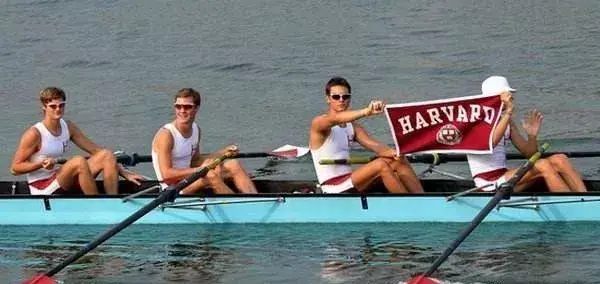 ★ 名校的青睐不无道理,其中美妙,也是体会大于言传。
The popularity of famous schools is not unreasonable, which is wonderful, but also more experience than words.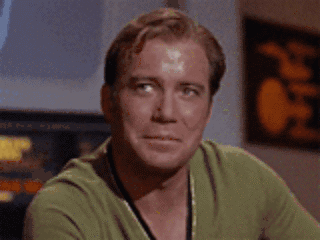 世博·航伽水上运动基地提供专业的成人培训课程、青少年培训课程、亲子训练课程、学校课外活动训练课程,完成课时可获得结业证书。我们还具备美国ACA皮划艇二级证书的培训和发证资质,欢迎广大朋友们前来体验、报名。
Expo-Hangjia Water Sports Base,could provides professional adult training courses, youth training courses, parent-child training courses and after-school activities training courses. We also have the training and certification qualification of the American ACA kayak ii certificate. You are welcome to experience and register.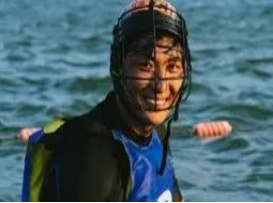 国家级教练-海伟
● 美国皮划艇协(ACA)海洋舟四级教练&白水四级技能
● 皮划艇协会(CCA)公开水域教练
● 中国皮艇球国家队主力
● 亚洲杯皮划艇马拉松冠军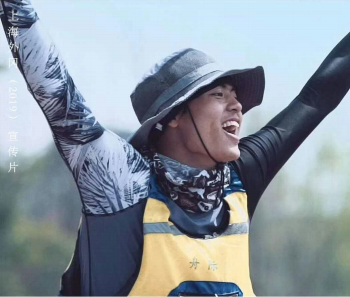 千岛湖人-杨洋
● 美国ACA认证皮划艇三级教练
● 美国ACA认证桨板二级教练
● 上海市船艇运动协会二级裁判员
● 三级社会体育指导员
课程安排 Curriculum
(十二节课,每节两小时)
(Twelve classes, two hours each)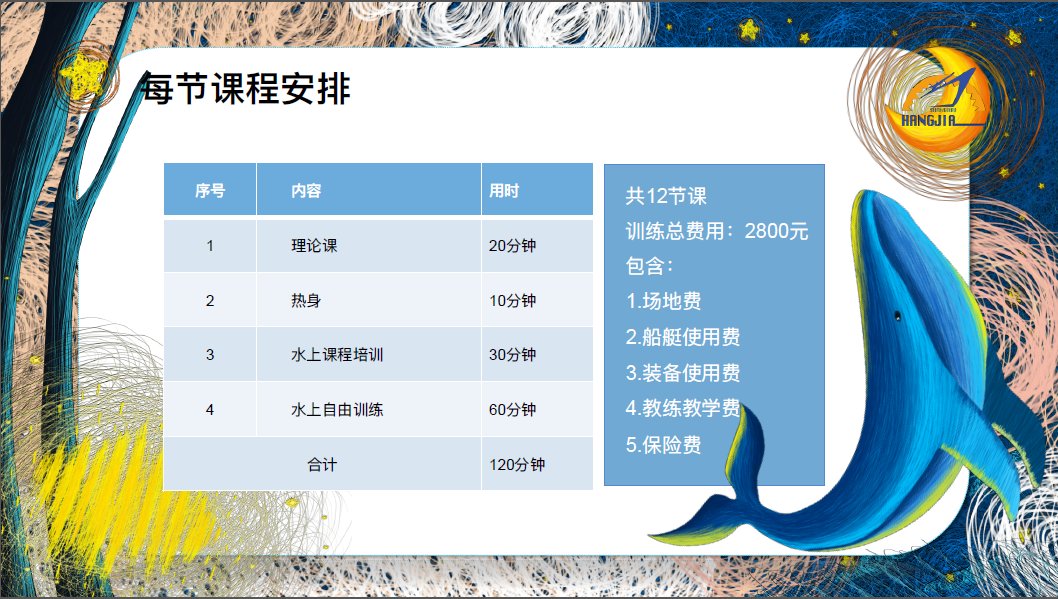 一、理论课内容 
Theory course content
1. 水上运动的益处
The benefits of water sports
2. 水上运动的安全注意事项
Safety precautions for water sports
3. 皮划艇的技术动作 
The skill of canoeing
4.救生衣的正确穿戴
Wear the right life jacket
5. 意外落水的自救方法
Rescue from accidental drowning
6. 救援时的顺序
The order of rescue
7. 溺水的抢救方法 
Rescue methods for drowning
8. 皮划艇的起源
The origin of canoeing
9. 皮划艇的类型
The type of kayaking
二、实践课内容 Practical course content
1. 抬艇及运输:安全,实际及其有效的方式运艇
2. 下水: 在较低的码头或浅滩用安全的方式完成上艇及离岸
3. 有效的前进划行:尽可能的保持直线划行200米的距离
4. 停止:在前进和倒退的划行过程中将船减速并停止
5. 倒退:平稳有效的倒退50米的距离
6. 360转弯:通过前后扫桨完成原地360转弯
7. 行进中转弯:在行进中通过扫桨完成转弯
8. 8字划行:通过多种桨法完成8字划行
9. 上岸:用安全的方式靠近码头或岸边并上岸
10. 平移:使用提拉式及侧拉式平移完成5米的平移 (左右两侧均须)
11. 防止翻船:通过低位支撑在各种环境下保持平衡,
12. 低支撑转弯:通过扫桨及低支撑动作的配合来完成 转弯,并且保持单边侧倾以提高转弯效率
13. 侧倾转弯:较好的完成单边侧倾低位支撑扫桨转弯
1. Boat lifting and transport: safe, practical and effective means of carrying boats
2. Launching: launch and shore in a safe manner on lower docks or shoals
3. Effective forward paddling: try to keep 200 meters of straight paddling as far as possible
4. Stop: to slow down and stop a boat during forward and backward rowing
5. Backsliding: a smooth and effective backsliding distance of 50 meters
6. Turn 360: complete turn 360 in place by sweeping the OARS back and forth
7. Turn in motion: complete the turn by sweeping OARS in motion
8. Figure 8 rowing: complete the figure 8 rowing through a variety of paddle methods
9. Go ashore: approach a pier or shore in a safe manner and go ashore
10. Translation: use lift and side translation to complete the translation of 5 meters
(left and right)
11. Capsizing prevention: balance in various environments by low bracing
12. Low support turn: it is completed by sweeping OARS and low support action
Turn, and maintain a side tilt to improve turning efficiency
13. Lateral turning: better complete unilateral lateral low support sweep oar turning.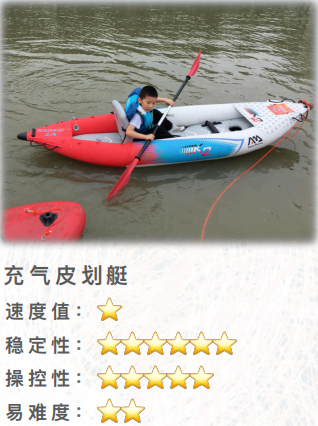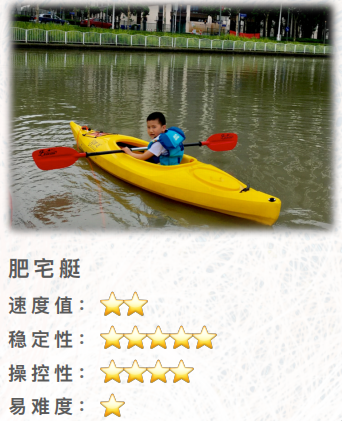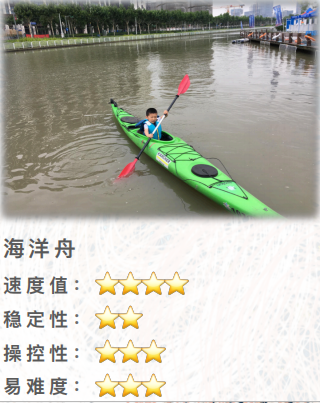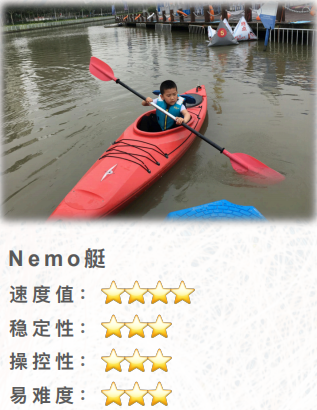 ACA证书考证须知
Instructions for ACA certificate certification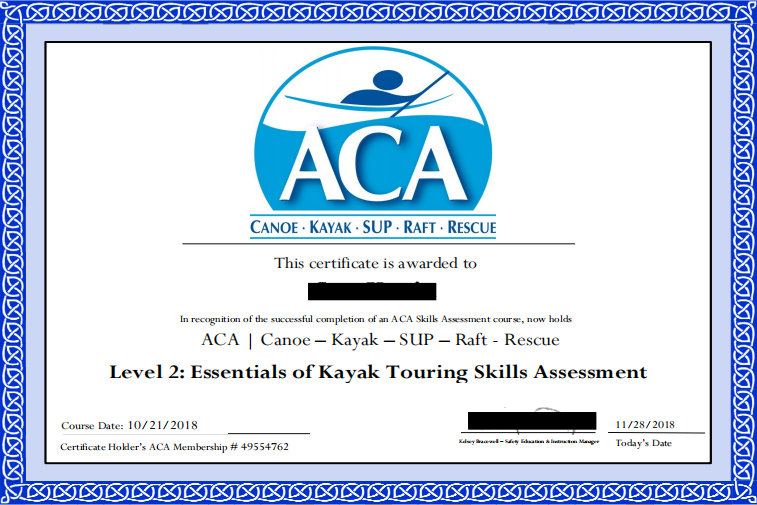 ★ 前提:前期12节课的练习实践
Premise: After 12 classes
★ 第1天:教练在教室教授理论课, 牢记知识,准备理论课考试
First day: The coach teaches the theory class in the classroom. The students memorize the knowledge and prepare for the theory test
★ 第2天:在教练带领下实践上艇练习,随后进行ACA皮划艇二级考证
The second day:Practice boating practice under the guidance of the coach, and then conduct the ACA kayak level 2 certificate
★ 考证费用:1800元(考核官费用)
Certificate fee: 1800 yuan (assessment officer fee)
注意事项 Matters needing attention
一、学员衣着要求:
Dress requirements:
★ 为保证行程与学习过程的顺利,请根据天气情况妥善准备您的个人物资。
【太阳镜(眼镜绳)、防晒服、快干裤、干衣/湿衣、抓绒衣、防寒外套、划艇鞋、保温杯、换衣物(备用)。】
★ 因为需要下水,合适的个人装备可以更好的发挥个人能力哦~
★ To ensure the smooth travel and learning process, please prepare your personal materials according to the weather conditions.
【Sunglasses (rope), sun-protective clothing, quick-drying pants, dry/wet clothes, fleece, winter coat, rowing shoes, thermos, clothing change (reserve)】
★ Because of the need to enter the water, the appropriate personal equipment can better play personal ability
二、付款说明:
Payment instructions:
★ 需培训前1个星期报名,并缴培训费。
★ 报名后如因天气影响,导致培训无法举行,则全额退费;
★ 报名后培训当天无故未报到者视为自动放弃,不予退费。
★Sign up one week before the training and pay the training fee.
★After registration, if due to the impact of the weather, resulting in training cannot be held, then full refund;
★Training training day without reason after registration is considered to automatically give up, no refund.
心动不如行动,我们在世博航伽水上运动基地等你来~
Action is better than heart, we live Expo-Hangjia water sports base to wait for you ~
世博·航伽水上运动基地配备游艇、帆船、赛艇、摩托艇、皮划艇、SUP等新颖的水上运动,承办运动体验、驾照培训、水域竞赛、企业团建以及家庭、个人等多等级赛事、体验活动。
Expo-Hangjia Water Sports Base
match the novel water sports such as yachts, sailboats, rowing boats, motor boats, kayaks, SUPs, sports events, driver training, water races, corporate formations, and multi-level events and experiences for families and individuals.
TELL : 021-5830975
秦先生:17301703080