中国是自行车的王国,几乎没有人不会骑自行车,地上自行车发展已经100多年了,水上自行车面世才6年。如今,航伽就已引进了这个时尚的水上运动项目。
China is a kingdom of bicycles. Almost no one can ride a bicycle. The development of bicycles on the ground has been more than 100 years. The water bicycles have only been available for 6 years. Today, Hangga has introduced this stylish water sports program.
水上自行车运动起源于加拿大。车座高度可以调节,车把是赛车型,易于操纵,脚蹬可以前后蹬,进退自如,如果感到疲劳,还可停住脚,在水上"悬浮",惬意、安全、悠然自得。水上自行车骑起来很轻便,时速可达到12~18公里。
Water cycling originated in Canada. The height of the seat can be adjusted, the handlebar is racing type, easy to operate, the ankle can be squatted back and forth, and it can move forward and backward freely. If you feel tired, you can stop your feet and "suspend" on the water, comfortable, safe and leisurely. Water bikes are very light and can reach 12 to 18 kilometers per hour.
骑水上自行车完全没有必要为安全性担心,它绝不会有翻车的危险。会在陆地上骑自行车,就会骑水上自行车,老少皆宜。
There is absolutely no need to worry about safety when riding a water bike, and there is no danger of rollover. If you are riding a bicycle on land, you will ride a water bike for all ages.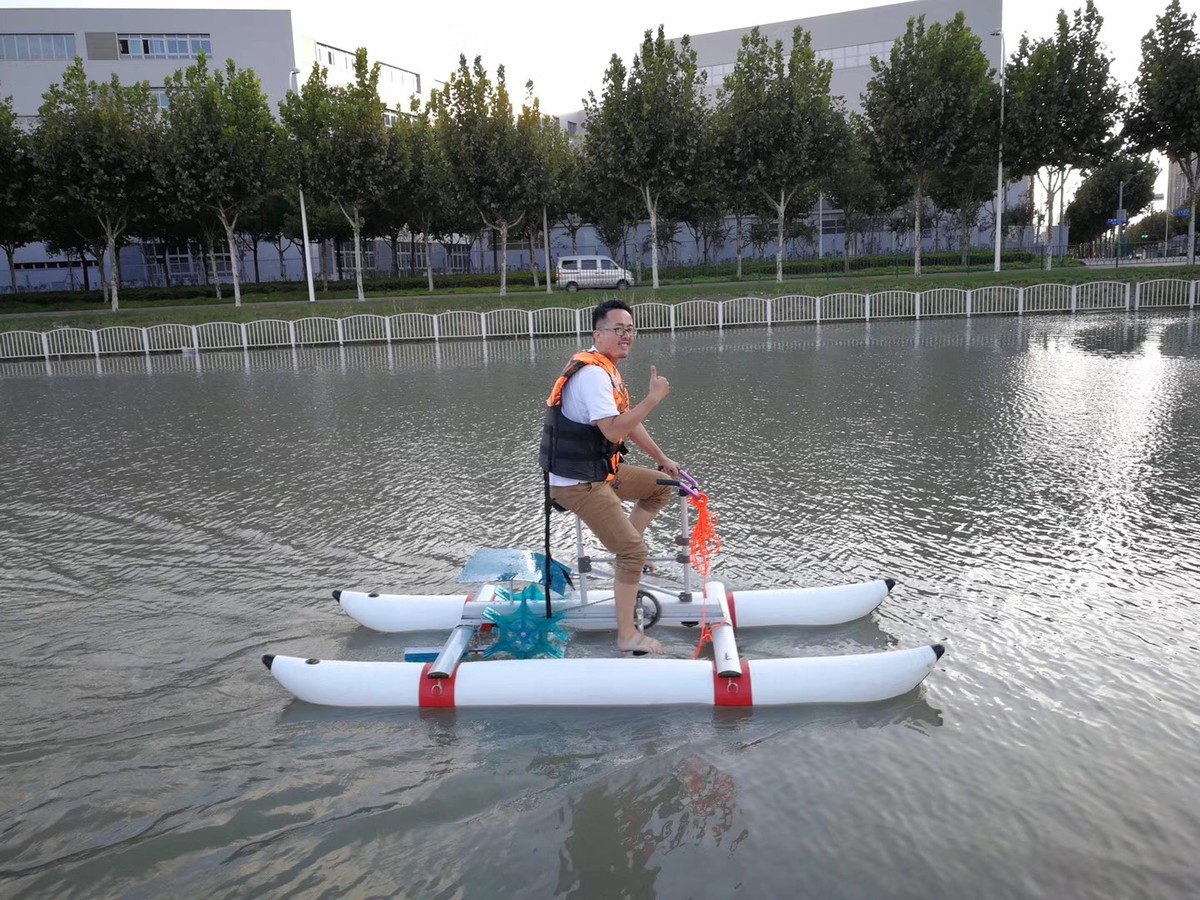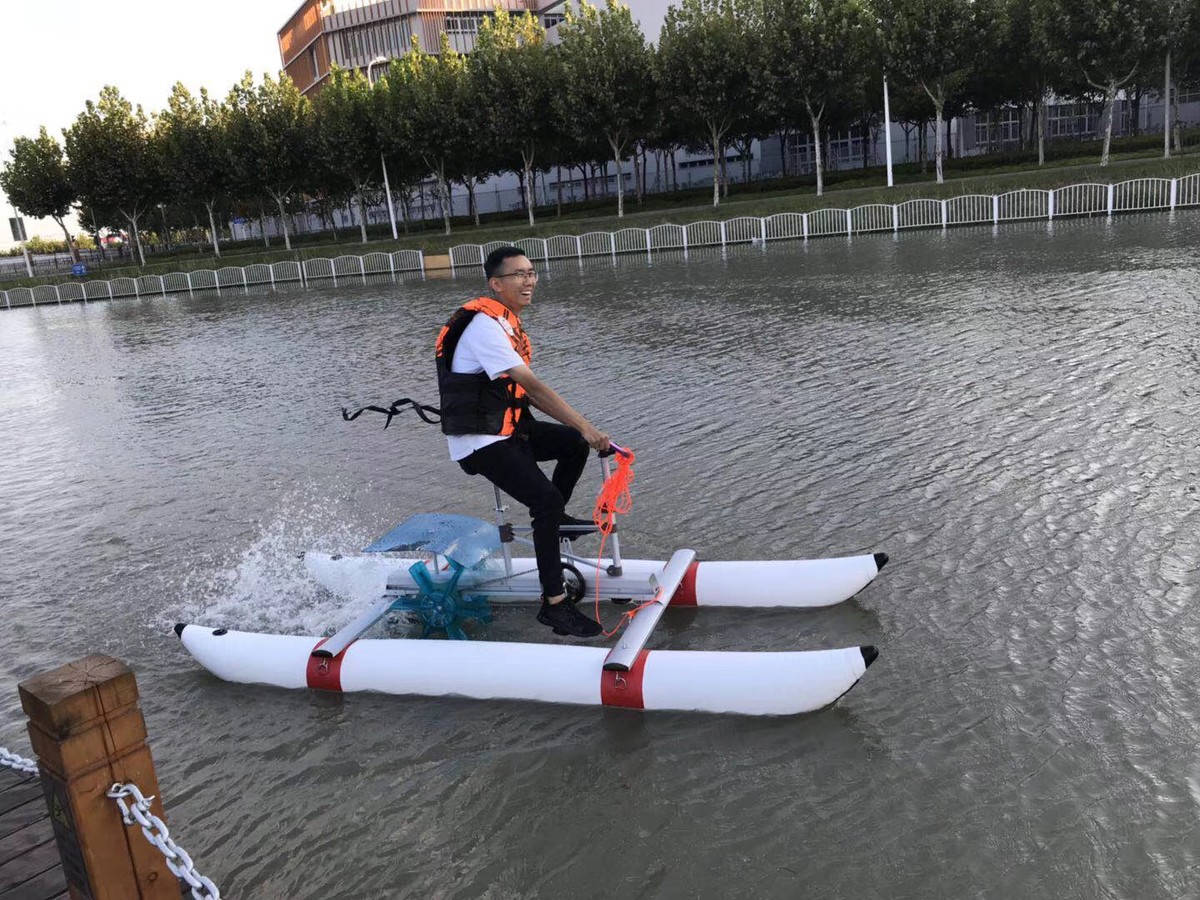 (航伽的两个小伙伴在体验水上自行车,看看这笑容就足以说明它的魅力啦~)
(The two small partners of Hangga are experiencing the water bike, and seeing this smile is enough to illustrate its charm~)
水上自行车是一种游乐项目,也是一种水上运动项目,那种乐趣只有亲自骑在水面上行驶,才能体会到。
The water bike is a kind of amusement project, and it is also a kind of water sports. The kind of fun can only be experienced if you ride on the water yourself.
水上自行车可以单人骑,也可以把两辆组合到一起双人骑,两人配合共同前进。体验团结协作的默契。
The water bike can be used for a single ride, or two cars can be combined for a double ride, and the two can work together. Experience the tacit understanding of solidarity and collaboration.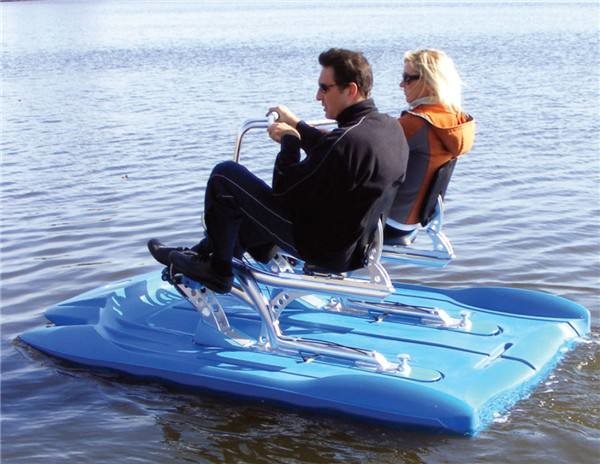 水上自行车让人真切地感受到水的清澈、灵性,符合低碳环保的要求。水上自行车比赛与其说是一种竞技,倒不如说是一种娱乐,玩家多数都是普通人,群众参与性很强。
Water bikes make people feel the clarity and spirituality of water and meet the requirements of low carbon and environmental protection. The water bicycle competition is not so much a competition, but rather an entertainment. Most of the players are ordinary people, and the masses are very involved.
水上自行车与陆地自行车最大的区别是没有轮子,也没有链子。与水面接触的底部有三个充气垫,类似于气垫船,使自行车安全地漂浮在水面上。在三个气垫中间每边各有两个螺旋桨,连着两辆类似于自行车的镫子。
The biggest difference between a water bike and a land bike is that there are no wheels and no chains. At the bottom of the water contact, there are three inflatable cushions, similar to hovercraft, which allow the bicycle to float safely on the water. There are two propellers on each side of the three air cushions, connected to two bicycle-like rafters.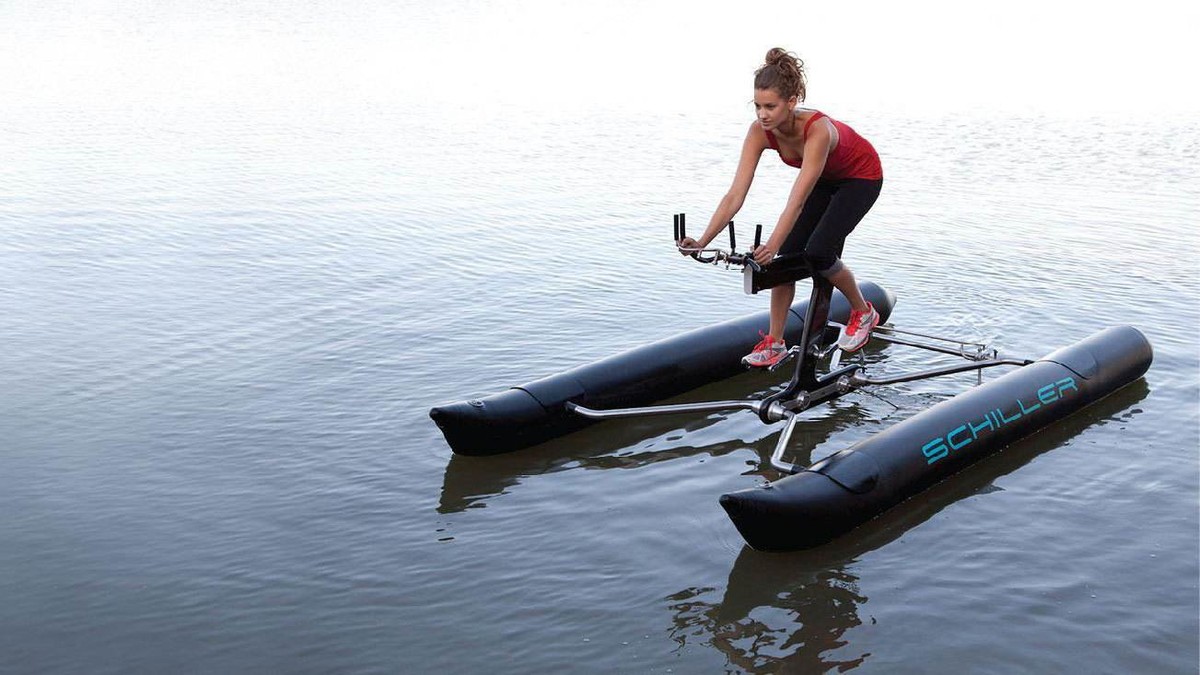 上面跟普通的自行车一样。水上自行车毕竟受水域的限制,骑水必须穿救生衣。骑水上自行车要比在陆地蹬自行车累得多,因为马路比较平坦,而水上略有风,水面就起浪,风越大浪越大。
It is the same as an ordinary bicycle. After all, water bicycles are restricted by waters, and life jackets must be worn when riding water. Riding a water bike is much more tiring than riding a bicycle on land, because the road is relatively flat, and the water is slightly windy, the water is on the waves, and the wind is getting bigger.
看到了水上自行车的人,都会尝试一下。骑水上自行车适应了以后很舒服。尤其是有微风吹来,浪潮涌动,人和自行车随着一起一浮,很融合,很舒畅。水上自行车能激起朵朵浪花,逐波踏浪别有情趣。
Anyone who sees a water bike will try it out. Riding a water bike is very comfortable afterwards. Especially when there is a breeze blowing, the tide is surging, people and bicycles float together, very harmonious, very comfortable. Water bikes can stimulate the blossoming waves, and the waves are not interesting.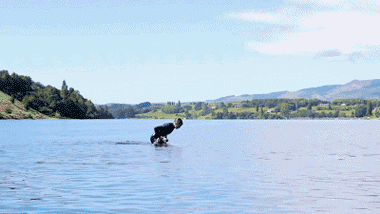 水上自行车骑起来很轻便,安全性能高,不必担心有"翻车"的危险,而且没有严格的年龄限制,老少皆宜,很受人们的欢迎。这么有趣的水上运动你还不来试试吗?
Water bikes are very lightweight and have high safety performance. There is no need to worry about the danger of "overturning", and there is no strict age limit. It is suitable for both young and old, and is very popular among people. Don't you try this fun water sports?